I enjoyed my break. Like
really
enjoyed it.
School started back up this week, and I have to admit that I'm less than thrilled about it.
It's my last semester of grad school, yay, but the thought of getting back out in the "real world" is a little daunting! I'm a little scared — what if I can't find a job? what if no one wants me?
Anyways, I have plenty of time to worry about that. After all, I have 16 (!!) weeks from Friday until I graduate.
Now, to the important stuff...like FOOD! I'm trying really hard to keep things healthy this semester. Last semester, I ate my feelings and every scone that I came in contact with (absolutely LOVE scones). My tastebuds were happy, but my waistline was not and I spent the semester feeling cranky, emotional and sluggish.
Aren't you jealous of my husband?
My What I Ate Wednesday is actually Tuesday's day of eats. This week isn't much more interesting than last week's
Tone It Up
7 Day Slim Down WIAW (but I did lose 9 pounds last week!!), and I failed because I forgot to take pictures of everything. Ugh.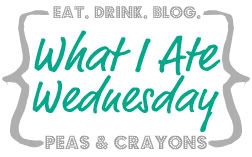 My day started out with coffee while writing in bed.







After a quick workout, I had scrambled eggs and hot sauce, and sauteed spinach, tomatoes, jalapenos, onions and mushrooms. I also had half of a grapefruit. I ate this while watching Downton Abbey. Did anyone else watch this??? Poor Anna! I may have cried. I just can't...
For a snack, I had a Kashi Chocolate Almond & Sea Salt bar. These are so yummy, and this flavor is exclusive to Target. I also had a Diet Coke. I am working on cutting out grains, so once these are gone, no more! Same for the Diet Coke :(
On the way to school, I had a shake that consisted of Perfect Fit protein (dairy free, gluten free and organic...I really like it so far!), frozen mixed berries, kale, coconut oil and almond milk. It was OK...I prefer to use spinach in my smoothies, because kale has such a strong flavor.
Aaaaaand then I forgot to take pictures.
I had a hard boiled egg and some mini sweet peppers for a snack.
For dinner, I picked up Chipotle for Chase and me on the way home. Even though I usually get a burrito bowl loaded with everything, I had a salad with chicken, peppers, salsa and guacamole. So good — I've been wanting another one all day today.
I also had some dark chocolate almonds and a cup of sleepytime tea.
I hope everyone is having a fabulous week!!